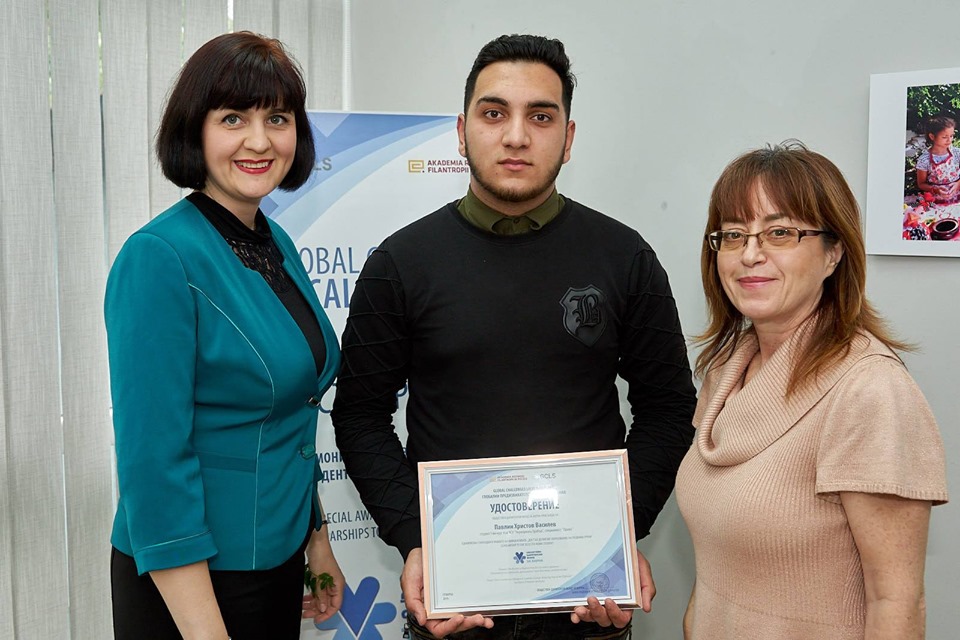 Pavlin Vassilev - a law student at Varna Free University "Chernorizets Hrabar" is one of the three students awarded a scholarship by the Community Donation Fund . The scholarship was presented to Pavlin by the President of the Varna District Court, Erna Yakova, at a special ceremony in the gallery of the Radio – TV Centre in Varna. Judge Yakova wished Pavlin to complete his studies successfully and to be useful in the profession he had chosen.
The event was also attended by Assoc. Prof. Yuliana Mateeva, Head of the Department of Law at VFU, and Mrs Todorka Vlachkova, Europrogrammes specialist at Geo Milev Secondary School, who have nominated Pavlin for this award as their former and current alumnus.
The nominated students received individual scholarships in an amount of BGN 1,000 each to cover tuition fees and hostel rents. The condition is not to discontinue their studies until its completion. The scholarships are provided by donors and with the support of the Workshop for Civic Initiatives Foundation. This is an initiative of the Community Donation Fund Varna, which in 2016, with the support of donors and partners, established a special fund to support students from marginalized groups.
Scholarships were also awarded to: Maria Atanasova -
Obstetrics
student at Medical University - Varna, received her scholarship certificate from Prof. Dr. Anelia Klisarova - Minister of Education and Science in the period 2013 - 2014, Member of Parliament, Rector of Medical University - Varna in the period 2004 – 2014, and Head of the Nuclear Medicine and Metabolic Therapy Clinic at St Marina University Hospital Varna. Sabrina Arabova, student of the Technical University received her scholarship certificate from Radostina Petrova, a representative of Electronic Media Dnes +, a donor and partner of the Community Donation Fund Varna.
The event was attended by academics, lawyers, partners, donors and friends.