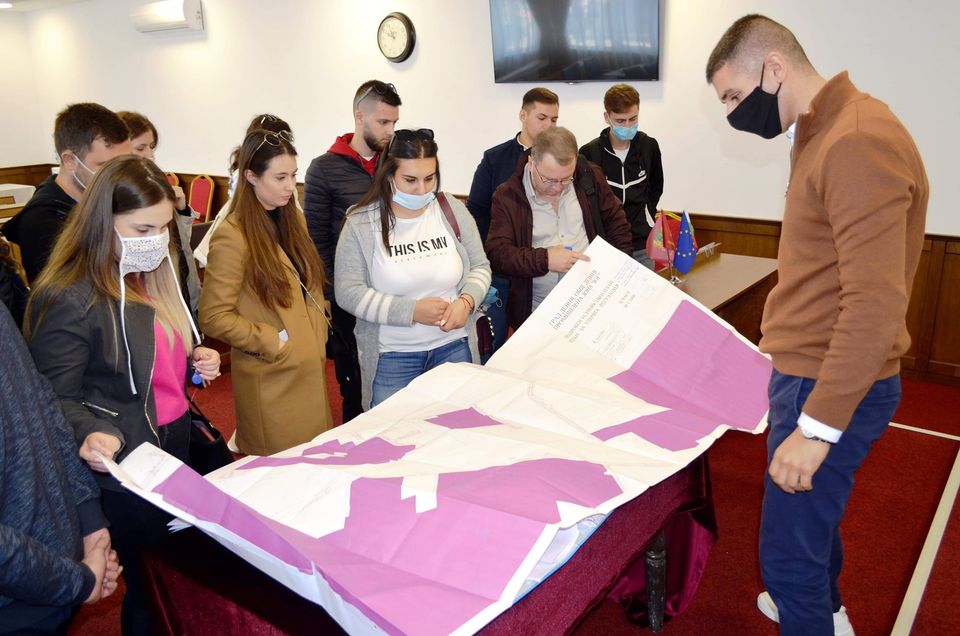 Students majoring in Architecture at Varna Free University "Chernorizets Hrabar" were given assignments to develop projects for development plans in the new industrial territory of Devnya, as well as production buildings in it. This happened during the "field lectures" in the course of Industrial Buildings and Complexes, which were held in the Municipality of Devnya. The future architects met with Mayor Svilen Shitov and Chief Architect Simeon Georgiev. The students got acquainted with the plans for the establishment of an industrial zone near the city.
Mayor Svilen Shitov spoke about the prospects for the Municipality to promote the rich cultural and historical heritage and the opportunities provided to businesses in the region.
"You will hear a lot about Devnya, both in connection with our ideas for tourism development, and in relation to the initiative for a General Development Plan and the formation of an industrial zone," the mayor explained. He pointed out that, like Plovdiv and Varna, there is a need for such a project, which will provide investments and more jobs, not only for the people of Devnya, but also for the residents of the whole region.
The Chief Architect of Devnya Municipality Simeon Georgiev spoke about the active work of the municipal administration in attracting business investments, as well as the implementation of many successful projects. According to Arch. Georgiev, with the adoption of the plan for street regulation of the existing industrial zone, discrepancies have been cleared, which until recently created obstacles for business. He shared that the Municipality is actively working on the General Development Plan of the city, which is at the stage of preliminary project.
3
rd
and 5
th
–year students of Architecture visited the Museum of Mosaics. Director Ivan Sutev presented curious details about the architecture of the Roman city of Marcianopol, which was built according to a pre-arranged plan, with wide and straight streets oriented in world directions.
The students received an invitation for an internship in the Municipality of Devnya, for which they can apply through the project of the Ministry of Education and Science "Student Internships - Phase 2". According to the leader of the group Assoc. Prof. Arch. Tsveta Zhekova, PhD - a lecturer at the university, this is a good opportunity for the future professionals to get acquainted with the work of the administration and to upgrade what they have learned in practice.