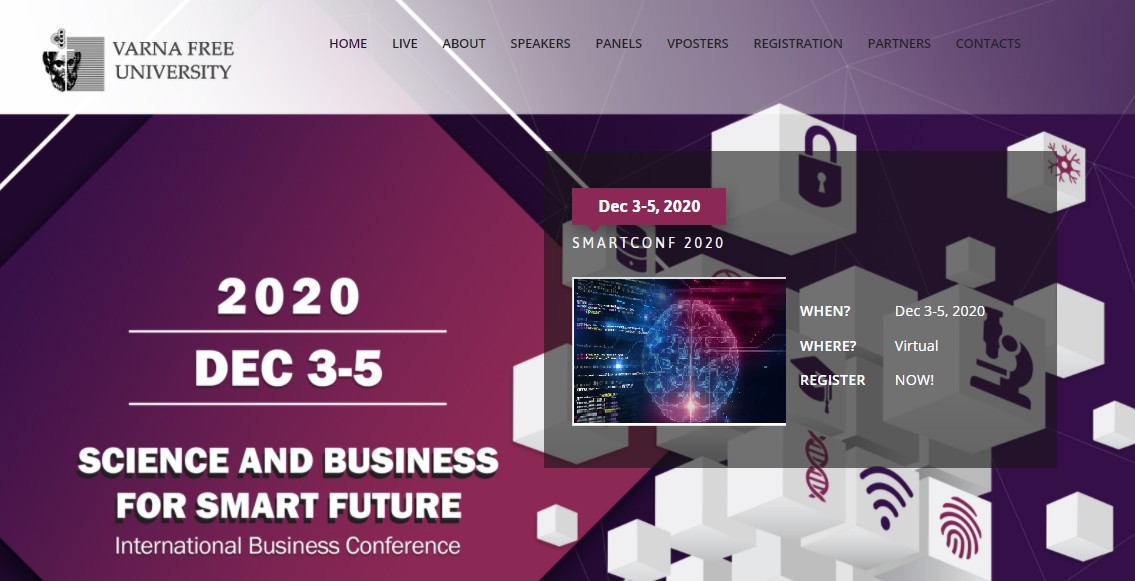 The International Conference "Science and Business for Smart Future", organized by the Department of Informatics at Varna Free University "Chernorizets Hrabar", will be held from 3 to 5 December 2020 in the online classrooms of the university . This year's SmartConf 2020 is dedicated to neurosciences and cybersecurity and will bring together researchers, experts and leading business leaders from Bulgaria, Italy, France, Switzerland, Greece, Israel and the United States.
"We are on the eve of the 30th anniversary of the establishment of Varna Free University. For five years now, the forum has been proving its sustainability and has been successfully developed through its various publications, sharing active partnerships between university scientists, investors, entrepreneurs and business representatives. The practice B2U2B (Business2University2Business) works, and for its upgrading Varna Free University has an active role ", shares before the event Assoc. Prof. Galina Momcheva, PhD - Head of the Department of Informatics at VFU" Chernorizets Hrabar " and co-head of BioMed - Varna.
Research teams bringing together academics, scientists, students, pupils and experts will demonstrate their experience and practice. In the panel dedicated to neurosciences, reports will be presented by Prof. Anton Tonchev from MU "Prof. Dr. Paraskev Stoyanov ", Prof. Bogdan Draganski from the University of Lausanne, members of the research ecosystem BioMed-Varna, partners of VFU" Chernorizets Hrabar "and MU - Varna, as well as from the universities of Tours (France) and Turin (Italy) . The topic of neuro architecture, which will be presented by Arch. Andrea De Paiva, is also expected with special interest. She will also be a lecturer in a specialized seminar with students majoring in Architecture. At the end of the first working day of the forum there will be a discussion related to the use of artificial intelligence in the education of students, pupils and teachers.
The Cybersecurity panel will be opened by Dr. Denis Barinov - Head of Kaspersky Lab. Reports will be presented by leading professors from the universities "Aristotle" in Greece, "Ben Gurion" in Israel, the Higher School of Computer Science in Paris, BAS and others.
A special challenge for students is the virtual poster session "Science Fiction - for Sure", in which they will show impossible (according to them) ideas for implementation.
Media partners of SmartConf 2020 are the specialized media ComputerWorld and CIO magazine.
Only registered participants will be able to participate in the forum.
The conference will be broadcast on
www.facebook.com/VarnaFreeUniversity