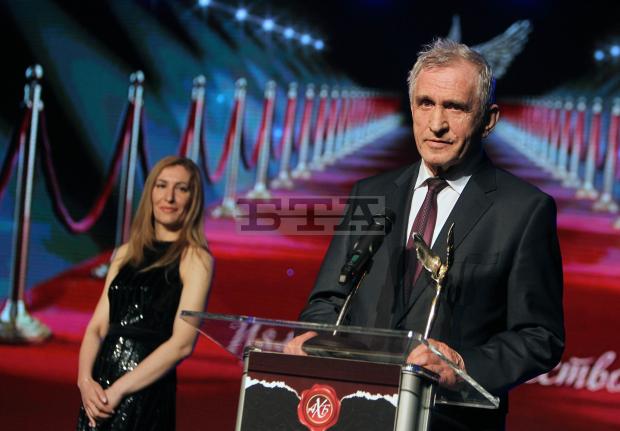 The leader of the Academic Dance Theatre of Varna Free University Prof. Petar Angelov was presented with the Golden Muse Award for a lifetime achievement by the Association of Choreographers in Bulgaria!
The award was given to Prof. Angelov by the Minister of Tourism Nikolina Angelkova on the International Dance Day – 29 April in Sofia.
Under the regulations, the award for a lifetime achievement is presented by a unanimous decision of the Association of Choreographers.
Prof. Petar Angelov has been a lecturer at Varna Free University since 1995 and since 2008 he has been a leader and artistic director of the "Chernorizets Hrabar" Academic Dance Theatre.
He is the holder of the Cyril and Methodius Order, first prizes in national competitions, the Varna Award and the big prizes of the International Folklore Festival in Dijon - France, Zakopane - Poland, Charleroi - Belgium, Ephesus - Turkey.
Crystal Lira Award holder for 2001 of the Union of the Bulgarian Musicians and Dancers.
He was conferred the title "Honoured Artist".
Prof. Petar Angelov is the author of more than 80 dance works for the ensembles "Varna", "Pirin", "Dobrudzha", "Zagore", "Rodopa", "Sliven", "Trakia" and others, as well as productions for professional and amateur ensembles in the USA, Canada, Belgium, France, Hungary, Russia, Germany, Switzerland.
Among his works stand out: "Arrows in a Maiden's Yard", "A Wreath for the Bride", "Dances from Golitsa", "Bachelors from Vetren", "Shumen Dances", "Kamchia Dances", "Rainmaking Rituals" , "Haidutin and a Maiden", "At Wedding" and many others.
A peak in his creative work is the production "Oh, Red Wine". This is the first big stage production in the country in the folk - stage art, i.e. - a musical-dance dramatic show similar to the big ballet show. The production was presented with the Crystal Lyre National Award of the Union of Bulgarian Musical Dance Artists and the Ministry of Culture, for excellence in dance art.
Prof. Petar Angelov is the author of studies, articles and reviews in the field of folklore and stage dance; he has participated in national and international scientific conferences.
Pressfo-BTA photo: Tsvetomir Petrov