The Branch of VFU "Chernorizets Hrabar" welcomed 30 youths from NATO member states, who took part in the NATO's international Summer School in Smolyan.
Observing an old Bulgarian tradition, the guests were welcomed by students and young friends of the Branch with bread and salt. The delegation took part in a round table discussion on "What is NATO for us?" The discussion involved young people from Bulgaria, Northern Macedonia, Kosovo, Hungary, France, Germany, Turkey and Greece.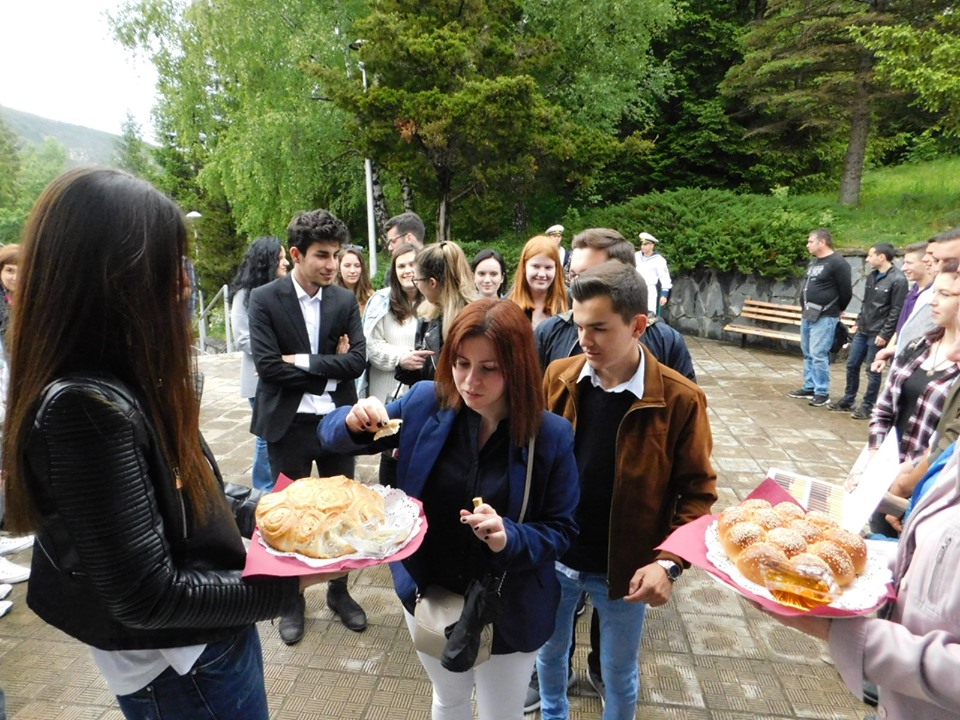 The director of the Smolyan Branch, Anelia Parzhanova, PhD presented to them the majors studied at the Smolyan Branch of VFU "Chernorizets Hrabar" and stressed that the training in the Branch offers and guarantees education of students from different professional areas, providing them with the necessary knowledge, skills and competences for successful professional and personal fulfillment in a globalizing society.
Participants from Northern Macedonia, Greece and Bulgaria presented themselves and their position on the role of NATO. "NATO contributes not only to the security and stability of certain countries and regions, not only for protection of the population but also for the future of the nations, for the development of the economy, and I am glad that Bulgaria is part of NATO, which makes me feel extremely confident about the future of Bulgaria, "said Nikola Kanev.
The students of the Naval Academy in Varna Simeon Zhelyazkov and Yasen Zlatanov, in turn, stated their position on the role of NATO and the development of our army: "NATO is constantly helping us, we are constantly involved in exchange of experience, there are constantly NATO exercises in Shabla we see that NATO offers us the opportunity to serve our country much better," they confidently shared their position.
The round table discussion continued with a discussion by the participants on other topics related to the Alliance agenda, security in the Black Sea region, measures against terrorism, NATO-EU cooperation, etc.
The summer school of NATO continues until 8 June in Smolyan.
It is organized by the Youth Euro-Atlantic Society, supported by NATO, the Representation of the European Commission in Bulgaria, the Konrad Adenauer Foundation and the Municipality of Smolyan.