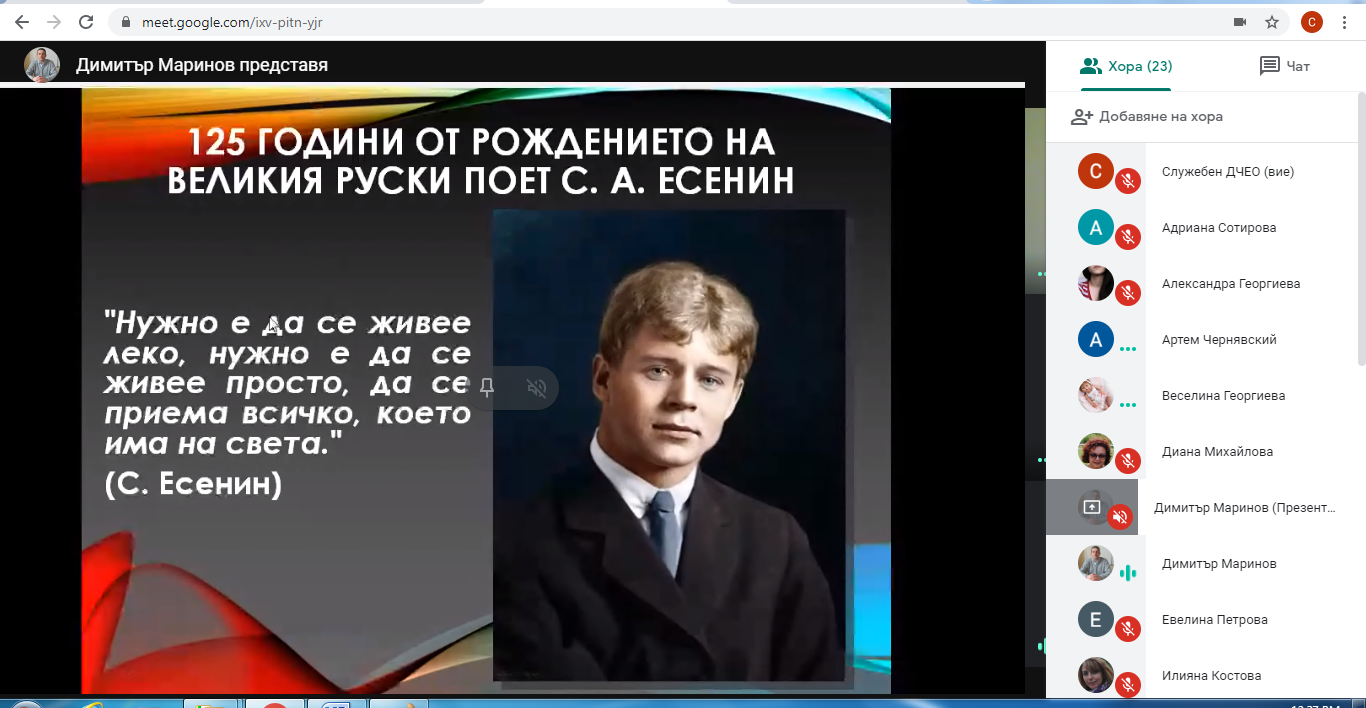 Students, lecturers and administrative staff at Varna Free University "Chernorizets Hrabar" read favourite texts in three languages - Bulgarian, Russian and English. They joined the traditional Reading People Marathon on 23 April, the World Book and Copyright Day. The event was organized by the Department of Foreign Language Teaching and Postgraduate Qualification, the University Library and the Russian Centre at VFU "Chernorizets Hrabar". This year the marathon was held at the university's virtual classrooms.
The Reading Day was dedicated to the 125th anniversary of the birth of the great Russian poet Sergey Esenin. It is no accident that his poems are interwoven into the DNA of the Russians, and his biography is a truly poetic performance. Assoc. Prof. Dimitar Marinov, Head of the Department of Foreign Language Teaching, told about his life and work. The poems of the poet "Queen" and "You do not Love me, you do not Pity me" were also performed in the original, performed by the students from Ukraine Oleksandra Kuznetsova and Artem Chernyavsky. Prof. Galina Shamonina - Secretary General of VFU "Chernorizets Hrabar", greeted the participants and ipresented "Sobake Kachalova" by the great Esenin. "The richness of the book cannot be replaced by any other wealth," said Snezhana Madzharova, Head of the University Library.
Among the favourite authors presented by the students were Franz Kafka, Mihail Bulgakov, Goethe, Howard Lovecraft. Zornitsa Vladimirova, student of International Relations read an excerpt by Mark Manson's book "The Subtle Art of Not Giving a F*ck", and the first-year student Anthony Stamboliiski presented part of Ernest Hemingway's "The Old Man and the Sea".
Lecturers also participated in the Reading Marathon with "An introduction to Clock Winding Instructions"by Julio Julio Cortázar, "The French Lieutenant's Woman" by John Fowles, and the wonderful t poems of the poet Valery Stankov – "The State of the Dead Poets."
The poem "A Song for the Man" by N.Y.Vaptsarov, performed by Veselina Georgieva from the University Library, was also read at the end of the event.