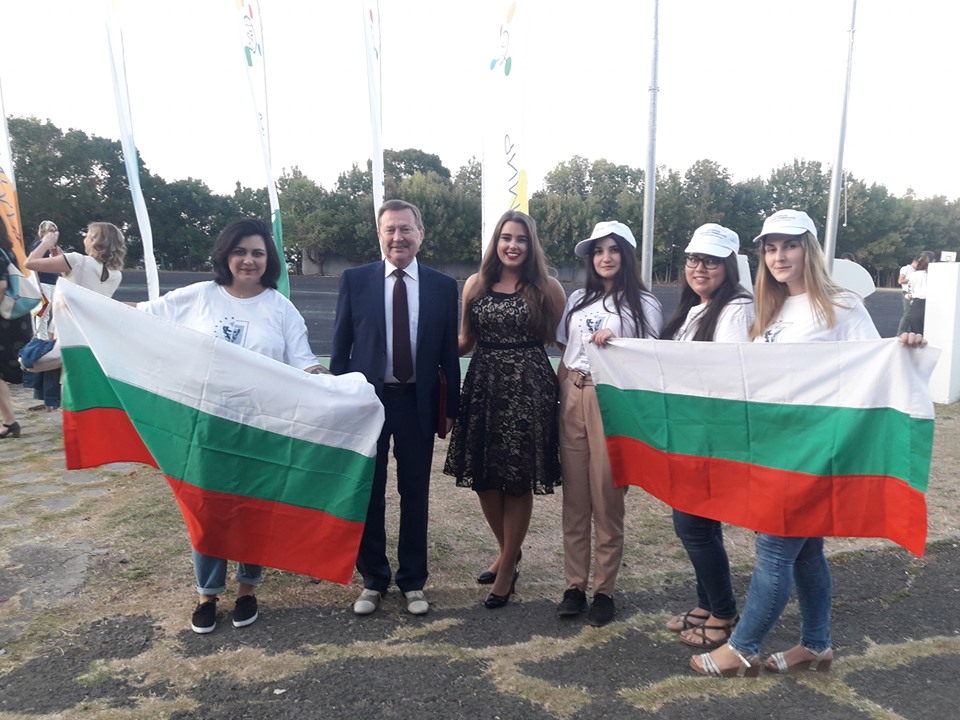 The team of Varna Free University takes part in the 8th international festival "Friends, Our Union is Wonderful!" which this year is in the beautiful Bulgarian Black Sea town of Kiten. The event brings together 280 students from 25 universities and 32 European countries studying Russian and Russian culture.
The festival, which was born 10 years ago at the Pedagogical University of Cracow, was opened by Vladimir Kochin, Executive Director of the Ruskiy Mir Foundation, at a solemn ceremony last night. The student of the Faculty of Architecture at VFU "Chernorizets Hrabar" Christina Hristova congratulated the students and the official guests with a wonderful performance of the song "My country". Dorothea Nikolaeva - II year student in Architecture and Chairperson of the Students' Council, Elena Vladimirova - II year student in Design, Irena Asparuhova - second year student in Architecture are also part of the team of Varna Free University. The captain of the team is Veronica Revenko - IV year student in "Business Administration and Management". All of them were prepared at the Russian Center of the University, managed by Prof. Dr. Galina Shamonina. In January 2019, the Center celebrated its 10th anniversary.

This year the festival "Friends, Our Union is Wonderful!" welcomes students studying Russian, not only from the best European universities, but also teams from Turkey, Tunisia, Japan, Vietnam, Indonesia, Tajikistan, etc. Europe is represented at the festival by the teams of Austria, Belgium, Bulgaria, Bosnia and Herzegovina, Hungary, Greece, Italy, Latvia, Macedonia, Moldova, Poland, Romania, Serbia, Slovenia, Slovakia, the Czech Republic, Montenegro and Estonia.
The program continues with creative workshops. The students of Varna Free University took part in the workshops on journalism, vocal techniques and dance.
On Thursday, the students will greet the residents and guests of Sozopol with a festive procession.