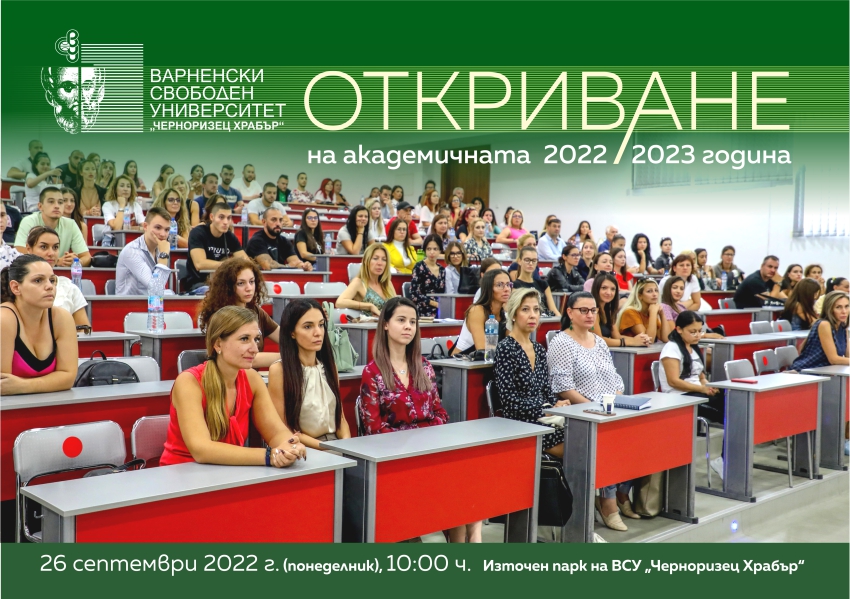 The Opening Ceremony of the Academic Year 2022/2023 will take place on the 26 September 2022 (Monday), at 10.00 a.m. in the Eastern Park of the University.
The first academic day will begin with a welcome from the university's academic management. According to the tradition the academic family will be blessed with holy water for health, success and prosperity. Students admitted with the highest GPA will be honored. The Academic Dance Theater at VFU "Chernorizets Hrabar" has prepared a special holiday surprise.
Later that day, first-year students will have the opportunity to get to know the university and the professors during the introduction day, which will be held by faculties and departments.
The mission of Varna Free University "Chernorizets Hrabar" is to serve knowledge, to develop and pass it on to young people, and to apply it in the interest of society. In its more than 30-year-old history, the university has proven itself as an environment for the intellectual, cultural and spiritual growth of thousands of young people. Students and faculty dedicated to science explore, assimilate, experiment, and seek new knowledge. The university is a pioneer in a number of specialties, in the establishment of a quality educational product, in the development of skills and competences necessary for the professional realization and success of young people. For another consecutive year, students give an excellent assessment of the quality of the educational process that takes place at the university, and for the academic year 2021/2022 it was 5.63 (according to the six-point system).
The university is a leader in the process of modernization of higher education. A number of projects that make innovative programmes and a modern learning environment are actively being developed. From this academic year, training in the intersectoral master's degree programmes 3D Technology for Design and Production and Eco-Technological Systems in Industry developed in the academic ecosystem of VFU "Chernorizets Hrabar", The technical University - Varna and Plovdiv University "Paisiy Hilendarski" began. The Master's degree programmes Artificial Intelligence in Biomedicine and Artificial Intelligence in Health Care are the result of the partnership between the Medical University - Varna and VFU "Chernorizets Hrabar". A few days ago the first in the country doctoral degree in the field of circular economy was defended at the university, thus the full educational cycle on this issue in the university's academic profile - from courses for additional qualification, through a sustainably developing master's programme and its upgrade into an educational and the scientific degree "PhD" was completed.
VFU "Chernorizets Hrabar" is also a leader in the process of digitalization of higher education in Bulgaria. This fact was shared by the GOOGLE experts, who are impressed by the use of technology for education at Varna Free University. They believe that the university's experience can become a global one.