They will receive two diplomas – one from Varna Free University and another one from one of the most prestigious universities in Norway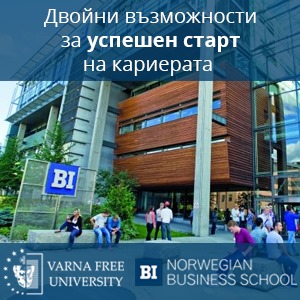 Students from the first class of the International Business major who will complete their third year in the 2019/2020 academic year will continue their education at BI Norwegian Business School - one of the most prestigious universities in Norway and the European Union, with which VFU "Chernorizets Hrabar" has a partnership.
They will be the first to leave for Oslo next year and, upon successful completion of the exams,
will receive diplomas from both universities.
The training is based on a contract signed in 2017 between Varna Free University and BI Norwegian Business School. BI is the only business school in Norway with three prestigious international accreditations. Globally, less than 1% of business schools have a similar accreditation called the "Triple Crown". In June this year, Varna Free University received its highest accreditation rating from the National Agency for Evaluation and Accreditation at the Council of Ministers - 9.21 (according to the ten-point system), which made the university the first among the private higher education institutions in Bulgaria.
The students of International Business major are from Bulgaria, USA, UK, Ukraine and Turkey. They are with high grade point average in their studies at VFU "Chernorizets Hrabar" and have excellent command of English. In the Norwegian capital, they will continue their studies in Finance, fourth year. During the first three years at Varna Free University, the future experts study disciplines in the fields of international trade, finance, banking transactions on international markets, financial reporting, banking, international marketing and more. The curriculum is tailored to the needs of business and is designed on the basis of international experience in the field of economics and European legislation. The lectures are delivered by top lecturers at VFU "Chernorizets Hrabar" and experts in the field of entrepreneurship and investment. Part of the training is in an environment developed for starting and developing one's own business and managing investment projects.
Obtaining two European diplomas is a strong competitive advantage for the students of Varna Free University - a guarantee for successful career in Bulgaria and abroad.
Admissions for the 2019/2020 academic year in the joint programme with BI Norwegian Business School will continue at VFU "Chernorizets Hrabar" until 30 September, 2019. Candidates can also apply for the programme within the framework of the summer admissions.